The coworking space in Speyer
An office full of creative and dedicated colleagues.
You don't need an inflexible rented office for a modern workplace.
In our Coworking Space, we offer flexible rates based on your current needs.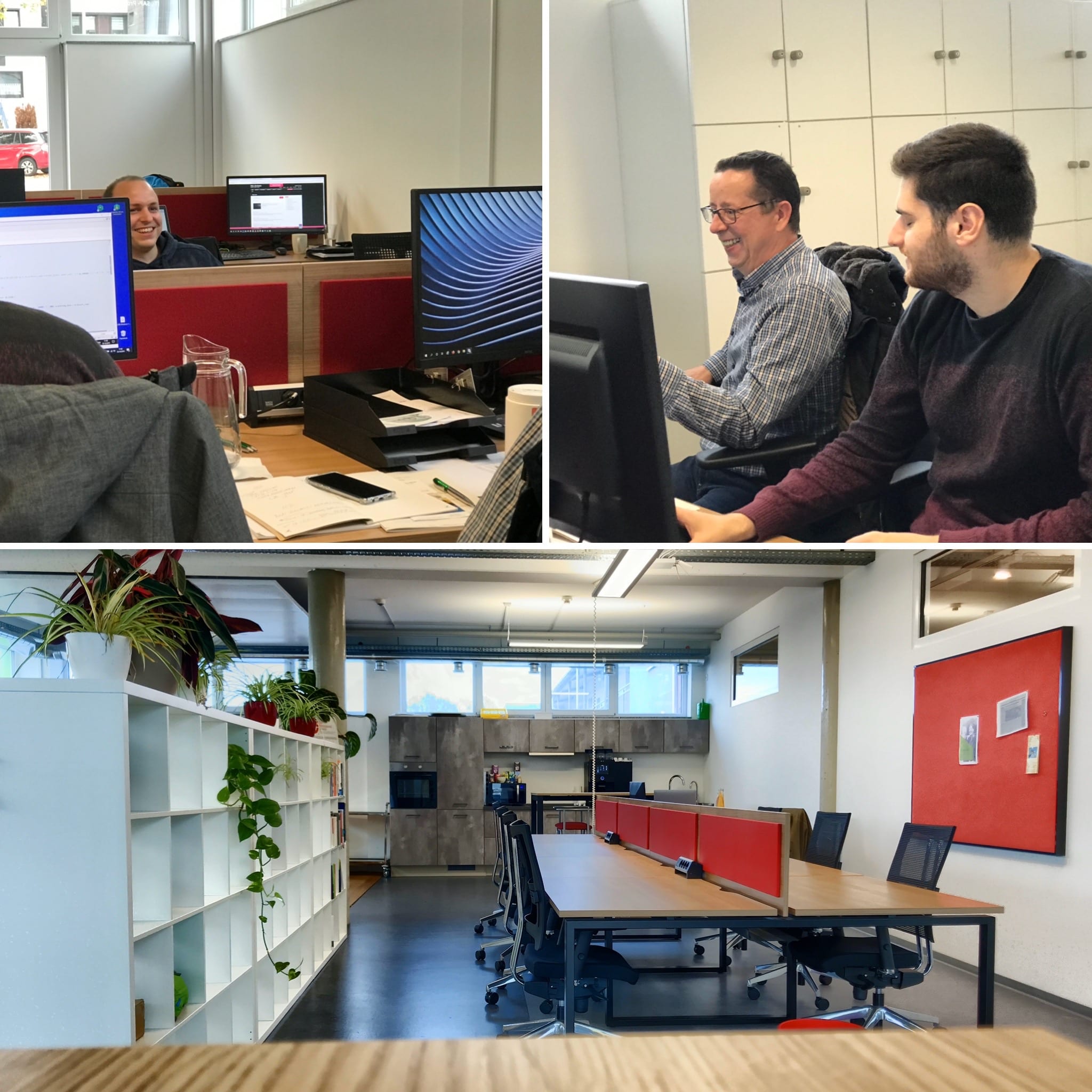 Everything you need for successful work.
Modern technology makes inflexible offices obsolete. Freelancers and employees can accomplish a lot from home.
But regular exchange and contact with other colleagues can increase creativity, productivity and satisfaction.
When the roof falls on your head at home, it's helpful to have a separate workspace from your apartment with a printer, coffee maker, wifi and everything else you need.
We invite you to visit us for a coffee in our premises on the ground floor of the COLLECTUS Energiezentrums, Wormser Landstraße 247, 67346 Speyer.
You are welcome to work with us for a day and get an impression for yourself.
Coffee and water flat rate
You get as much fair trade coffee and water as you want to drink. Coffee is not for you? Our Grohe system provides boiling water directly from the tap. Perfect for making yourself a delicious tea.
Don't worry, you won't be thirsty.
Book collection
Have you always wanted to read that one business book?
We are pleased to have a growing collection of books for our coworkers.
Meeting rooms
You need some rest? You want to have a private conversation or hold a seminar?
Retreat to our oasis of tranquility, where no telephony is desired. Use one of the meeting rooms or our conference room.
IT affinity
Do you have questions about websites, programs or apps?
We advise customers in the SAP environment. If you have questions about IT, homepage or app, we may be able to help you.
<h2>What our coworkers say</h2>
"So far, I have worked in a home office. I missed the "colleagues" there.
There is more exchange here, and I am more focused than at home.

Christiane Herbrand-Gimmy

Bundesverband mittelständische Wirtschaft
""The advantage here is that I can come by bike."
"When you rent a space commercially, the costs are high and you have a longer notice period."

Manfred Kalinke

Selbstständiger Unternehmensberater
"Talking to professionals from other industries working here, I am much more productive and creative than I am at home. I get new impulses and ideas.

Susanne Weber

Coach und Karriereberaterin
"Instead of doing it in a home office, I do it in a coworking space. For reasons of space and secondly because it is better not to work in sweatpants. Commercial spaces start at 320 euros in Speyer and there are none anyway.

Christian Theis
"I firmly believe that we can support each other. The delicious coffee and the pleasant temperature are nice, but the interaction with the coworkers here in Speyer is crucial.

Tobias Steckenborn

SAP Berater
"We want to give you the opportunity to develop yourself and your company. We are happy to support you in this. Let's achieve more together.

Albert Steckenborn

Geschäftsführer Consolvis GmbH
Why does the Coworking Space exist?
After founding our company, we were looking for
nice office space in Speyer
, that was in line with our
ecological values
.
However, the office space was really expensive and the rates were extremely inflexible. What if we grew more? What if we had to downsize? There would have been no flexibility for the next 10 years.
And we were, after all, quite small. What about exchange? As consultants, we travel a lot and sitting alone in an office doesn't sound like fun. We wanted to exchange with creative, committed and determined people.
That's why we opened Consolvis Coworking Space – to give others the flexibility and exchange when they need it.
Over the past two years, we've interacted with many self-employed people and businesses, giving them the flexibility to respond to changing situations. All while hanging out with other cool people. We'd love for you to give it a try too.
Are you ready for an office full of creative and engaged colleagues when you need it and how you need it?
Drop us a message, stop by and get to know us over coffee.
Learn more and register